How to protect yourself against COVID-19
Successful businesses today depend on innovative logistics technology more than ever before. Gone were the days where businesses only require very traditional and conventional freight forwarding. At Thai Global Logistics, not only are we your one-stop integrated logistics and transportation service provider, but also a solutions provider to take on your modern day complex supply chain demands.
Our regular routes for Sea/Road delivery from and to Thailand
         Our quality services include:
FCL & LCL Service Contract Rates (FMC), Best FCL Sea Freight to USA from TH. 

Competitive Air, Sea, FCL & LCL Shipment Import from China.

Global Air Freight & Sea Freight LCL & FCL Worldwide Services ( Door to Door).

BREAK-BULK, ROLL ON-ROLL OFF, PROJECT CARGO Worldwide Services.

Ship Agent, Chartering Agency, Lighter, Tug & Barge, Shipbroking.

Warehousing, Cold Storage & Distribution.

One Stop Service for Multimodal International Transport Cross Borders CLMV.

In-Transit/Transshipment by Truck to Laos, Myanmar, Cambodia, Malaysia.

Cross Border Trucking to Southern of China & Shanghai, China Transit time 5 days Door to Door.

Customs Specialist License No.2553 Certified by The Customs Department.
Thai Global Logistics is an international logistics provider that offers international transportation services and logistics solutions from and to anyplace in the world using all existing transport modes such as airfreight, oceanfreight and trucking services. Thai Global Logistics Quality Cycle guarantees to our customers an outstanding services quality. We are able to handle all your transport needs and requirements.
  Thai Global Logistics Co.,Ltd. ผ่านการตรวจสอบจากกรมศุลกากร ให้เป็นผู้มีคุณสมบัติผ่านตามหลักเกณฑ์ระเบียบข้อบังคับ ในการปฏิบัติงานเกี่ยวกับตัวแทนออกของ ตลอดจนหน้าที่และความรับผิดชอบจรรยาบรรณของตัวแทนออกของที่มีการควบคุมตามมาตรฐานโลก เพื่อให้ได้ปฏิบัติงานที่เกี่ยวกับการออกของตามกฎหมายว่าด้วยการศุลกากรและกฎหมายอื่นๆที่เกี่ยวข้อง โดยกรมศุลกากรเป็นผู้กำหนด ตามประกาศกรมศุลกากร เรื่อง ระเบียบปฏิบัติเกี่ยวกับตัวแทนออกของ (นิติบุคล) โดยได้มีการกำหนดคุณสมบัติของตัวแทนออกของไว้อย่างครบถ้วน
เลขทะเบียนบริษัทที่ได้รับอนุญาตเป็นตัวแทนออกของกับกรมศุลกากร เลขที่ 553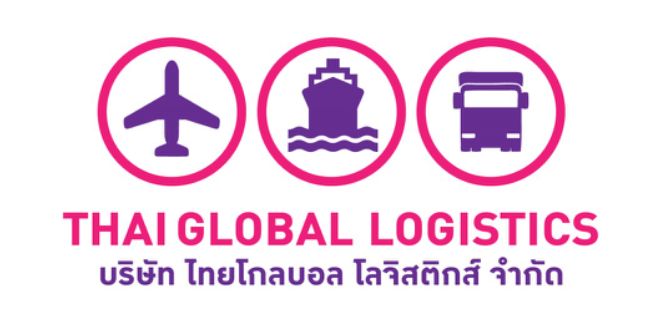 บริหารงานโดยผู้ชำนาญการศุลกากร ลำดับที่ 2553 รับรองมาตรฐานและคุณสมบัติโดยกรมศุลกากรประเทศไทย
Why Choose Us
Choosing your logistics partner is a vital decision in your international business. The logistics company plays very important role on delivering your promises to your customers. A trusted, professional and responsible logistics service provider will assist you to reduce your costs and help to develop your business with timely services.
We can be your logistics partner with following strengths
In depth knowledge of the industry.

A responsible team with passion for service by understanding customer requirements.

Strong and reliable worldwide net-work.

Business with values, we strongly follow business ethics.

Great rapport with statutory authorities and carriers to ensure smooth passage. We believe " WE CAN DO IT ALWAYS".

We believe our customer's TRUST is the biggest asset for us, we do business with transparency.

Always control the costs and maintain rate levels lowest possible in the industry.

By providing personalized and professional services, we ensure peace of mind and remove your logistics worries.

A flexible team who act as your own employees.

Trade licenses, credibility and financial stability.
Last but not the least, Thai Global Logistics work with focus to develop our customer's business, we give prime importance for our customer's business growth by understanding the challenges in their business.
Thai Global Logistics provides ocean freight forwarding services. We provide door-to-door service in the world that you require. We offers complete import and export logistic services includes arranging pick-ups and deliveries, document handling, load transferring, re-packaging, labeling, Fumigation, Customs documentation, storage, cargo consolidation Etc.
Keeping aware of market trends and conditions is what makes Thai Global the preferred logistics partner with our customers. Putting in place people with a real depth of experience for the job is what makes the company grow. Driven from the top management down to every level of the company, is a team focus on keeping our customers satisfied in every aspect of our services. Thai Global Logistics, we set our own standard that is measured by the satisfaction of each and every customer we serve. Our dynamic team of management and employees understand the need to deliver our customers' products on time, every time. It is this very understanding that drives us to make your business a success that is the primarily key to the success of our own.
ส่งข้อความให้ทางเราติดต่อกลับเพื่อนำเสนอ Quotation นำเข้าส่งออก ค่าเฟรท/ค่ารถ/ค่าชิปปิ้ง/โกดัง และบริการอื่นๆ
Send message to Request Import/Export Quotation Freight Quote by Air/Sea, Inland Transport, Customs Services, Warehousing, Packaging etc.
We will get back to you within 24 hours./ ทางทีมงานเราจะรีบติดต่อกลับโดยทันที 
[contact-form-7 404 "Not Found"]
ลูกค้าสามารถสามารถทำการบุ๊คกิ้งคาร์โก้แบบออนไลน์

 ในเว็บเราได้เลยและยัง

สามารถตรวจสอบสถานะของสินค้าในตู้คอนเทนเนอร์ของคุณทางออนไลน์ได้ในแบบเรียลไทม์