Our regular routes for Sea/Road delivery from and to Thailand
เลือกประเภทการขนส่ง เรือ/รถข้ามแดน/เครื่องบิน (SEA/TRUCK/AIR)  A. เลือกระบุชื่อ"ท่าเรือหรือสนามบิน ที่รับสินค้า" 

(Place of Loading)

 (POL) และ B. "เลือกระบุท่าเรือหรือสนามบินสถานที่ปลายทางส่งสินค้า"

(Place of Discharge)

(POD)

 
กดเลือกประเภทการจัดส่งระบุประเภทสินค้า FCL เต็มตู้คอนเทนเนอร์หรือไม่เต็มตู้ LCL/AIR บรรจุเป็นพาเลทกล่องและน้ำหนัก (Boxes/Crates) ป้อนรายละเอียดการจัดส่ง หรือเลือกการขนส่งทางรถข้ามแดน จากเมืองจีนต้นทาง และคลิกที่ค้นหา (SEARCH)
จะได้ราคาค่าขนส่งทางรถ/เรือ และทราบระยะเวลาการขนส่งคร่าวๆทันที กด Book Now ใส่ข้อมูลสินค้าวันโหลดสินค้า (Shipment Detail) และกรอกข้อมูลเพื่อเราติดต่อกลับท่านลูกค้า ทางเราจะติดต่อกลับและนำเสนอราคาค่าขนส่งที่เป็นปัจุบันให้กับลูกค้าอีกครั้ง เพื่อให้ลูกค้ายื่นยันราคาค่าขนส่งปัจุบันอีกครั้ง เสร็จแล้วคุณจะได้รับ Email ตอบรับยื่นยันจากทางเราเรื่องทำการบุ๊คกี้จองเรือ/เครื่องบิน/รถ ส่งใน mailbox ของคุณ ทางเราจะติดต่อกลับภายใน24ชม.( กรณีลูกค้าใหม่) เพื่อขอเอกสารนำเข้า/ส่งออกเพิ่มเติมในการเดินพิธีการศุลกากร (ในกรณีให้เราดูแลเรื่องชิปปิ้งให้) เราจะทำการจองระวางเรือ/เครื่องบินหรือจัดรถขนส่งข้ามแดน/ในประเทศ ให้ทางคุณในทันทีตามข้อมูลที่ได้รับมาจากคุณ
ในกรณีไม่พบราคาที่ต้องการหา? (NO RATE) กดขอราคา (REQUEST A QUOTE) กรอกข้อมูลลูกค้า (Name/Email/Tel) ทางเราจะเสนอราคากลับ ภายในเวลาไม่เกิน 48 ชม. ตามข้อมูลที่ลูกค้าให้มา เรามีบริากรขนส่งทางรถยนต์ข้ามแดนในราคาที่ย่อมเยาว์ให้ท่านอีกหนึ่งตัวเลือกในการขนส่ง
หากมีข้อสงสัยสามารถติดต่อได้ทันที่ทาง LINE 24/7 @tgl_logistics หรือโทร 0808188871
เราปรับปรุงพัฒนาเสมอ  
แน่นอนว่ายังมีบางอย่างอยู่เสมอที่เราสามารถปรับปรุงได้ ศักยภาพของมนุษย์ไม่มีขีดจำกัด ดังนั้นจึงไม่สามารถเข้าถึงจุดที่ไม่มีการหยุดพัฒนาได้
To book a freight rate, please select:
type of delivery (sea, air, road or rail) and best option to fit;
city of departure and arrival;
quantity of cargo.
Click on "Search." From rates on offer, please choose the desired option and click on it. Then enter details about the cargo and create your booking. Thai Global Logistics support team will contact and guide you further within 24 hours.
No Rate click REQUEST A QUOTE then Enter Your Information Freight Request (Name/Email/Tel).
We will offer the Best Rate Promise to you contract by email within 48 Hours.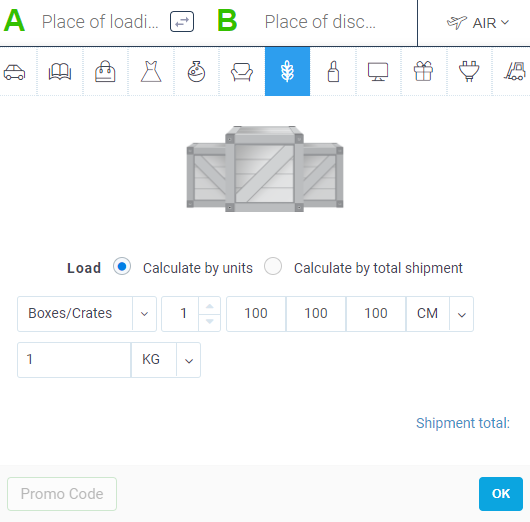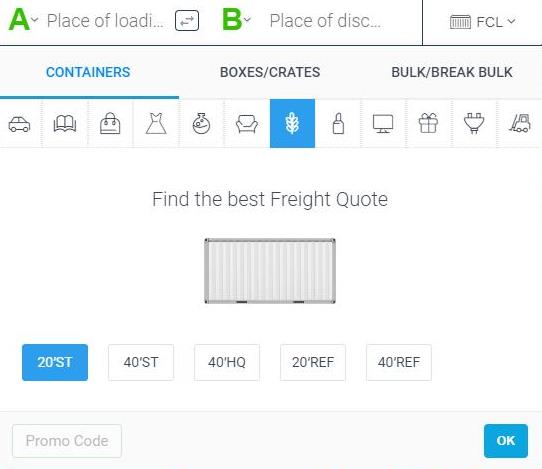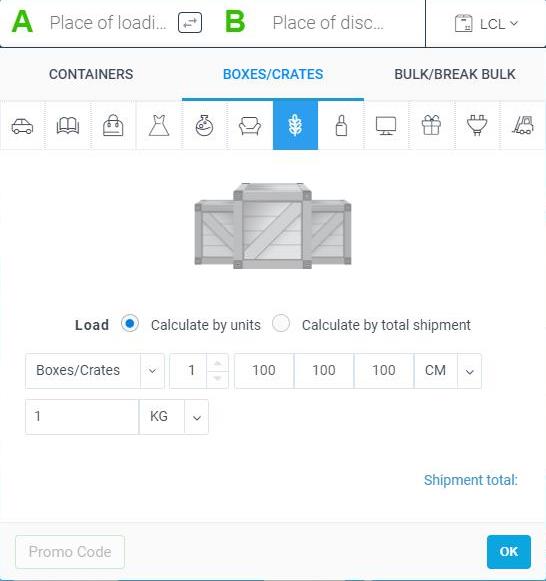 Remark
ราคาค่าขนส่งทางรถในประเทศ/ขนส่งข้ามแดน/ทางอากาศ/ทางเรือ เป็นแค่ราคาตัวอย่างสำหรับราคา ที่โปรแกมของเราได้ใช้วิธีคำนวณราคาค่าขนส่งโดยอัตโนมัติ ไม่สามารถนำมาใช้อ้างอิงราคาค่าขนส่งสินค้าที่เป็นปัจุบันได้ 
หากต้องการ "ราคาค่าระวางค่าขนส่งที่แท้จริงเป็นปัจจุบัน" ท่านสามารถติดต่อเราได้โดยตรงทุกช่องทาง อีเมล์/แชท ออนไลน์/โทร ได้ตลอดเวลา 24/7 หรือทำการจองออนไลน์ผ่าน เว็บไซต์เรา

โปรดตรวจสอบราคาค่าระวางสินค้า Import/Export (Air/Sea Freight/Inland Trucking) ที่แท้จริงเป็นปัจุบันกับเราอีกครั้ง

โดยส่ง Email: vichu@tgl-log.com หรือ Tel: 02-147-3671 เพื่อขอราคา quotation 

ราคาและข้อเสนอทั้งหมดอาจมีการเปลี่ยนแปลงโดยไม่ต้องแจ้งล่วงหน้า ขึ้นอยู่กับความพร้อมในการให้บริการของผู้ขนส่ง/ตัวแทนเรือ/ตัวแทนสายการบิน

ราคาค่าระวางสินค้ายังไม่รวมถึง ค่าเดินพิธีการศุลกากร, ภาษี, ค่าธรรมเนียมต่างๆ ณ. ท่าเรือหรือสนามบินต้นทางและปลายทาง, ค่าภาระต่างๆกับตัวแทนเรือ/ตัวแทนสายการบิน
Standard Conditions:
Please note that our rates as quoted do not include transport insurance nor do they include V.A.T, which will be debited extra. At a rate of 7%, in so far the services in question are not exempted from V.A.T. by the Revenue Department of Thailand.

Above rate not include Customs Formality Charges, Duty and VAT.  

Rates quoted are subjected to loading/discharging port(s) local regulations and charges.

Rates and information given are strictly private and confidential and are not to be divulged to third party without prior consent.

Rates are valid for mentioned equipments only, and subjected to availability.

All rates quoted are only for GENERAL CARGO, unless otherwise indicated. 

Rates are subjected to surcharges valid at the time of shipment unless otherwise specified.

Surcharges & all above details are subjected to change.

Rate is subject to GRI and/or surcharge at time of loading.

Rate is subject to empty equipment availability/space.

Rate is only valid for general non IMO cargo.

Booking is subject to cargo agent confirmation.

All rates are quoted in USD and are subject to change without notice, carrier acceptance and availability.

To accept this quote, we would appreciate confirmation by return email. (vichu@tgl-log.com)
APPLICABLE SURCHARGES
Rates listed above are for "FAK (FREIGHT OF ALL KINDS)"   Rates are SUBJECT TO:
AUTOMATED MANIFEST SYSTEM (AMS) / CARRIER SECURITY SURCHARGE (CSS) / ENTRY SUMMARY DECLARATIONS (ENS) / TERMINAL HANDLING CHARGE (L) (THL) / DOC FEE (ORIGIN) (DOC) / TERMINAL SECURITY CHARGE (D) (TSD) / CARGO DECLARATION CHARGE (CDD) / PEAK SEASON SURCHARGE (PSS)  / CARBON TAX SURCHARGE (BCT) / REEFER SURCHARGE (REF) / RAIL HAZMAT SURCHARGE (RHA) / INTERMODAL DOOR DELIVERY (IDD) / FUTURE GRI/LOCAL CHARGES PER TARIFF / PORT CONGESTION SURCHARGE (PCS) / EMERGENCY BUNKER SURCHARGE (EBS) / CONTAINER IMBALANCE (CIC) / BUNKER CONTRIBUTION (BUC) / CURRENCY ADJUSTMENT FACTOR (CAF) / BUNKER ADJUSTMENT FACTOR (BAF) / ECA REG SURCHARGE (ECA) / PANAMA CANAL TRANSIT (PCT) / SUEZ CANAL TRANSIT (SCT) / TERMINAL HANDLING CHARGE (D) (THD) / SUPPLEMENTAL PANAMA CANAL TRANSIT (SPT) / ALAMEDA CORRIDOR CHARGE (ALM) / ADEN GULF SURCHARGE (AGS)
For DG CARGO, add $300 per Container and subject to POL/POD DG approval, acceptance of vessel planner and railway operator
– Subject to space & equipment availability
– Cargo must be within legal weight limitation
– Tariff Demurrage and Detention applies
ส่งข้อความให้ทางเราติดต่อกลับเพื่อนำเสนอ Quotation นำเข้าส่งออก ค่าเฟรท/ค่ารถ/ค่าชิปปิ้ง/โกดัง และบริการอื่นๆ
Send message to Request Import/Export Quotation Freight Quote by Air/Sea, Inland Transport, Customs Services, Warehousing, Packaging etc.
We will get back to you within 24 hours./ ทางทีมงานเราจะรีบติดต่อกลับโดยทันที 
A licensed by the US FMC as an approved NVOCC (non-vessel operating carrier), bonded OTI and AMS approved by US Customs & Border Protection Agency. We are also part of C-TPAT, the supply chain security programme led by US Customs and Border Protection.
We offer the most reliable and cost effective solutions to export sea freight to USA:
Do you require professional and reliable freight services? Call us on 02 147 3670-71 or email (sales1@tgl-log.com). We'll help you with your LCL & FCL Sea Freight to USA from TH shipment from the very beginning to the very end.
OUR SERVICES:
Thai Global Logistics, "The Digital Brokers & Global Freight Management" 
Successful businesses today depend on innovative logistics more than ever before.
Gone were the days where businesses only require very traditional and conventional freight forwarding.
Thai Global Logistics, not only are we your one-stop integrated logistics and transportation service provider, but also a solutions provider to take on your modern day complex supply chain demands
Thai Global Logistics ผู้ให้บริการ, นวัตกรรมใหม่, นำเข้าส่งออก, ขนส่งแบบครบวงจร 
เพื่อนักธุรกิจรุ่นใหม่ ยุคดิจิตอล ในศตวรรษที่ 21
   Thai Global Logistics Co.,Ltd. ผ่านการตรวจสอบและรับรองจากกรมศุลกากร ให้เป็นผู้มีคุณสมบัติผ่านตามหลักเกณฑ์ระเบียบข้อบังคับ ในการปฏิบัติงานเกี่ยวกับตัวแทนออกของ ตลอดจนหน้าที่และความรับผิดชอบจรรยาบรรณของตัวแทนออกของที่มีการควบคุมตามมาตรฐานโลก เพื่อให้ได้ปฏิบัติงานที่เกี่ยวกับการออกของตามกฎหมายว่าด้วยการศุลกากรและกฎหมายอื่นๆที่เกี่ยวข้อง โดยกรมศุลกากรเป็นผู้กำหนด ตามประกาศกรมศุลกากร เรื่อง ระเบียบปฏิบัติเกี่ยวกับตัวแทนออกของ (นิติบุคล) โดยได้มีการกำหนดคุณสมบัติของตัวแทนออกของไว้อย่างครบถ้วน
  เลขทะเบียนบริษัทเราที่ได้รับอนุญาตเป็นตัวแทนออกของกับกรมศุลกากร เลขที่ 553 บริหารงานโดยผู้ชำนาญการศุลกากร ลำดับที่ 2553 ให้การรับรองมาตรฐานคุณสมบัติโดย กรมศุลกากร ประเทศไทย  
ภายใต้การบริหารงานโดย ผู้ชำนาญการศุลกากร (Customs Specialist) ที่ได้รับการอบรมและรับรองมาตรฐานคุณสมบัติจาก กรมศุลกากรประเทศไทย เราสามารถช่วยลูกค้าให้รักษามาตรฐานคุณภาพที่เข้มงวดและสะดวกสบายในการนำเข้าส่งออกสินค้า และควบคุมกระบวนการพิธีการต่างๆ ได้อย่างถูกต้องแม่นยำตามระเบียบข้อบังคับกฎหมายของกรมศุลกากรและกฎหมายอื่นๆที่เกียวข้อง เราบริการด้วยความสุขุมละเอียดรอบคอบ และเน้นการให้บริการที่สะดวกรวดเร็วและได้มาตรฐาน:
เราให้บริการด้านพิธีการศุลกากรที่เชี่ยวชาญเป็นพิเศษ (A Specialist Licensed Customs Brokers.) สำหรับสินค้านำเข้าและส่งออกสินค้าระหว่างประเทศ ที่ต้องผ่านพิธีการศุลกากรแบบอิเล็กทรอนิกส์ ทั้งก่อนการนำสินค้าขึ้นหรือลง เรือ/เครื่องบิน สินค้าข้ามแดนถ่ายลำและการให้บริการที่ต่อเนื่องในเรื่องที่เกี่ยวข้อง เช่น จองระวางเรือ/เครื่องบิน จัดหารถข้ามแดน จัดหารถกระบะ/รถบรรทุก/รถหัวลาก/ ให้บริการคลังสินค้าทั่วไป (Chill/Cold/Frozen and Dry Storage) และคลังสินค้าปลอดอากร (Freezone Warehouse) เป็นต้น, 
   Thai Global Logistics ให้บริการขนส่งสินค้าระหว่างประเทศครบวงจรทั้งทางอากาศ ทางทะเล ทางรถข้ามแดน ด้วยความร่วมมือจากพันธมิตรทางธุรกิจของเราซึ่งมีอยู่ 175 ประเทศทั่วโลกกว่า 4,000 บริษัท เราจึงสามารถวางแผนและหาทางออกที่มีประสิทธิภาพและประสิทธิผลสูงสุดเพื่อตอบสนองทุกความต้องการในการขนส่งสินค้าของคุณจากทุกที่ทุกมุมทั้วโลก ราคาพิเศษ LCL/FCL Ocean Freight to USA 
"Your Total Logistics Solutions Excellence is Always Here"
Thai Global Logistics is "A Specialist Licensed Customs Brokers" Certified by the The Customs Department License No.2553.
We able to assist solutions of customs clearance for our client businesses by shipping staff team with high experience take good care imports – export customs clearance shipment, including advice on customs tariffs, duty rates and overseas trade enquiries, preparing export, import, re-export, transit, transshipment documentations, permit requirements, operating, paperless direct online E-Customs Services.
Customs Specialist Licensed No. 2553 
Certified by The Customs Department
THAI GLOBAL FREIGHT MANAGEMENT
Thai Global Logistics Co.,Ltd is international logistics company located in Thailand. ourselves TGL has long been recognized as a trusted name in the professional international logistics company focused on Tailor-made logistic Solutions With a rich history and wealth of experience the company offers unique service quality across a diversified set of activities. This includes a full range of our own local transport, customs broker license and warehousing, as well as specialized freight forwarding capabilities by Sea & Air modern. Supported under an extensive Thailand regional network, the firm provides comprehensive coverage door to door throughout the Far East. We also maintain global representation through our agency around the world. Thai Global Logistics continued commitment to providing professionalism's and integrity at all operating levels is backed by ourselves freight management system software support from our UK principal headquarter. It is also through an in-depth  knowledge and understanding of operating conditions and strong relationships with local and international carriers that we ensure our client's best interests and expectations are maintained.
The differentiating factor of Thai Global Logistics against our competition is our ability to deliver customized service products that each customer wants. This may be tailored to the need of individual targeted markets or even assembled for the specific requirements of any individual customers. With our flexibility approach, Thai Global is well positioned to maximize and exploit every existing opportunity which is pivotal to the success of the company
Thai Global Logistics Co.,Ltd.
"The Digital Brokers & Global Freight Management"
www.tgl-log.com
Customs Specialist Certified by The Customs Department